He is only 13, but he has accomplished more in his short years than most have by 30. His bow ties have produced $200,000 in sales, and he has five employees on payroll which include his mother and grandmother. Not to mention, he has been celebrated by Oprah's O Magazine, Steve Harvey and mentor/FUBU founder Daymond John.
His name is Moziah Bridges and he is the CEO of Mo's Bows. The teenage fashion designer started his company in 2011 at the tender age of nine when he asked his grandmother to teach him how to sew. He took her scraps of fabric and began making unique bow ties. Not long after, Mo's Bows began selling to local stores and online.
On his website Bridges explains his passion for making bow ties saying, "I like to wear bow ties because they make me look good and feel good. Designing a colorful bow tie is just part of my vision to make the world a fun and happier place."
And as his vision is becoming actualized, the Memphis native went a step further into philanthropy.
"I made this bow tie called the Go Mo! Scholarship Bow Tie and 100 percent of the proceeds go to help kids go to summer camp because I feel like it's good to help the community and that's what I'm doing," Bridges said.
Bridges appeared on Shark Tank in 2014 to pitch Mo's Bows to potential investors. He had to choose between accepting $50,000 for his innovative idea while sharing royalties with Kevin O'Leary, or have John as a mentor. The young businessman chose John's influence over money, and so far the decision has proven to be a wise one.
With John, he attended Mercedes Benz Fashion Week in New York and impressed big names in fashion with his sophisticated demeanor and dapper style. What more could they expect from a kid carrying a briefcase? Bridges's experience at Fashion Week garnered a phone call from Karen Katz CEO of Neiman Marcus. Mo's Bows are now sold online at Neiman Marcus and Cole Hahn. His neckwear retails at around $50 and are available in 15 states, Toronto and the Bahamas.
The fashionist-sir is very hands-on with the creation of Mo's Bows. He chooses the design of each tie and his style is a myriad of polka-dots, bold stripes, funky paisleys, and sports themed ties. His sports ties opened a seat for Bridges at 2015 NBA Draft where he served as a fashion analyst for the draftees.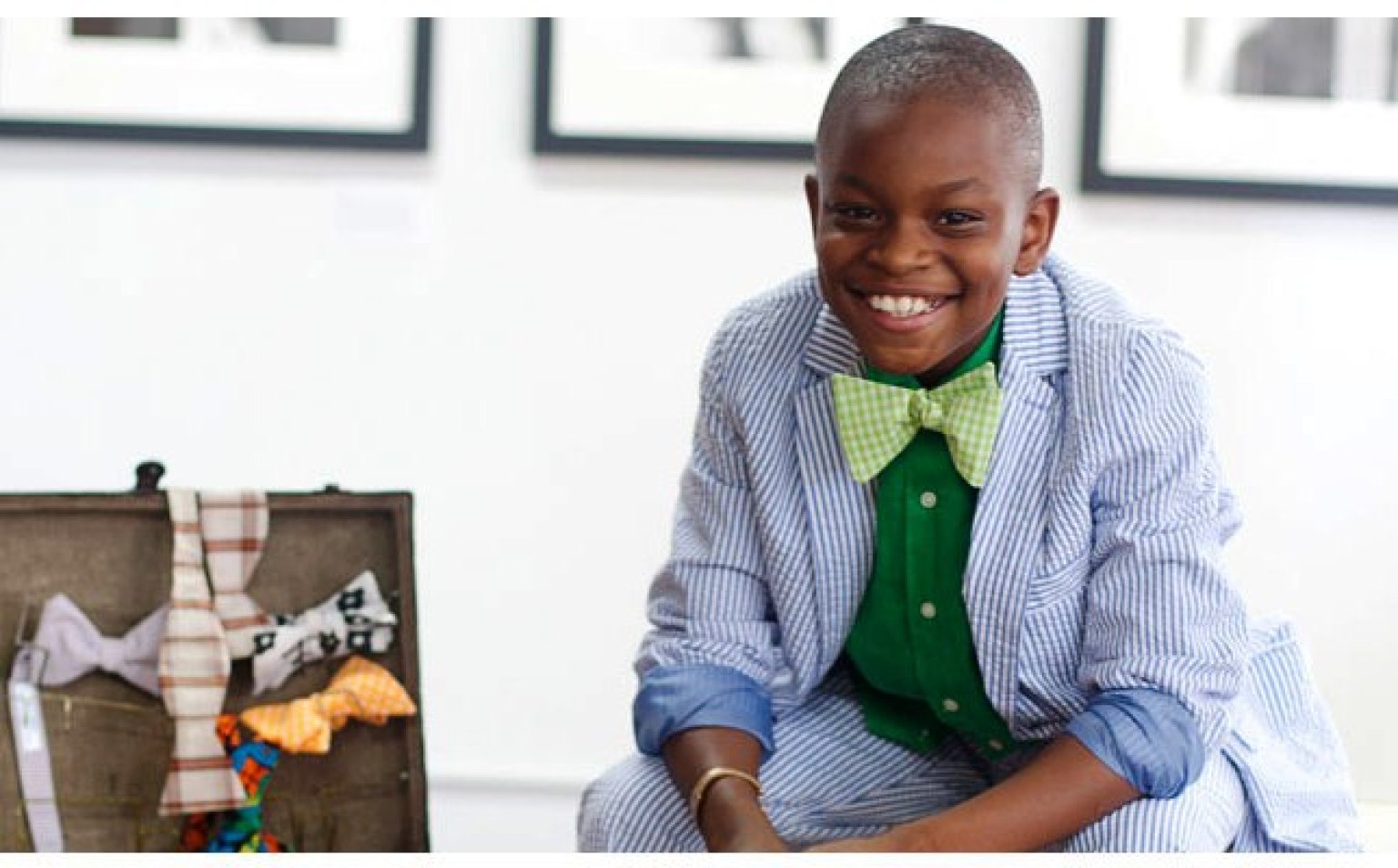 Moziah Bridges' success is certainly engineered by his mother's support. "You don't have to wait until you're older," his mother Tramica Morris said. "If you have a dream and you have a passion, we say go for it."
When is he older, his future with Mo's Bows will be expansive. "I see Mo's Bows adding neck ties, pocket squares and other accessories for men," he wrote to FORBES. "I also want to get enough money to start a cool kids clothing company that has nice blazers and pants for kids who like to look good like me."
On the website, Mo's Bows now sells squares and t-shirts.
Today he is still managing school and making bow ties, but Bridges has plans to attend college and launch a full fashion line by 20.