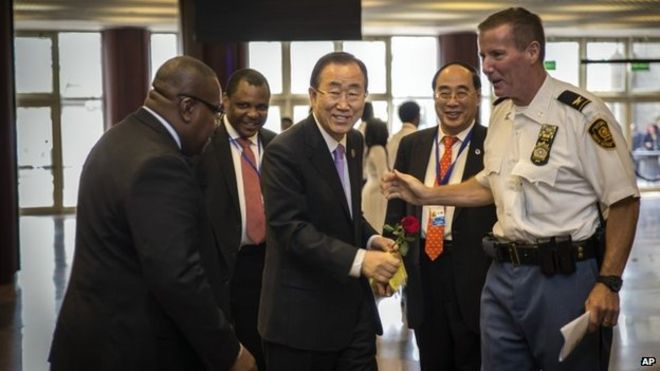 Rich and poor countries have agreed to overhaul global finance for international development and unlock money to end global poverty.
The United Nations announced the deal on its website following three days of negotiations in Addis Ababa, Ethiopia.
The deal to finance new Sustainable Development Goals (SDGs) will be adopted by world leaders in September.
It also sets ambitious targets to protect the environment and "improve economic opportunity" by 2030.
"This agreement is a critical step forward in building a sustainable future for all," UN Secretary-General Ban Ki-moon said on UN's website.
"The results here in Addis Ababa give us the foundation of a revitalised global partnership for sustainable development that will leave no one behind."
Seventeen new development goals were agreed, including ending poverty and hunger, ensuring quality education for all, achieving gender equality and making cities safe and environmentally sustainable. It is estimated it will cost more than $3 trillion a year to achieve these goals.
The goals will also see developing nations generating more domestic tax revenues in order to finance their own development agenda, rather than relying on foreign aid.
Developing counties will push through measures to improve tax collection and combat tax evasion, as well as money-laundering.
Tax troubles
A key sticking point in the negotiations had been a demand by the G77 developing countries for a greater say in reforming international taxation.
The group argues the current system is unfair and allows multinational corporations to shift profits out of their countries into low-tax regimes.
Under the agreement, the UN Committee of Experts on International Cooperation in Tax Matters will be strengthened, the UN statement said.
There was also no agreement over any increase to the provision of development aid from the world's richest countries.
Instead, they pledged to maintain their commitment to spend 0.7% of gross national income on foreign aid.
The agreement did, however, include strengthening measures on debt relief for countries, limits on so-called "vulture funds" that trade on distressed debt and more transparency in credit arrangements.
Speaking from Addis Ababa, International Development Secretary Justine Greening said: "This is a historic international deal that takes us beyond aid. It is the first ever agreement that allows us to harness private sector investment and developing countries' domestic resources, including tax revenues, to turbo charge development.
"The significance of today's unique agreement cannot be underestimated. This deal would have been unthinkable just a few years ago and is a major step towards getting the resource levels we need if we are to fast track economic growth in the developing world and eradicate extreme poverty.
"On top of this historic agreement, the UK's launch of the ground-breaking Addis Tax Initiative alongside the Netherlands, Germany, Ethiopia, Kenya and others, combined with key agreements on extra private sector finance, now put us firmly on the path towards ending aid dependency."
The agreement is due to be formally adopted at a UN meeting later on Thursday.